Paul Bunyan Long Distance

AROUND HERE, WE KNOW LONG DISTANCE
Get long distance from a local source with Paul Bunyan Long Distance (PBLD). There are a variety of options to choose from such as the PBLD 750 & 1000 calling plan, Coop Advantage, toll free numbers, and more. Get one bill convenience with your long distance service and real local customer service too, plus capital credits apply for members with Paul Bunyan Long Distance services!
Not Receiving Some Incoming Long Distance Calls? It's a Nationwide Problem.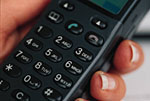 Are you frustrated that you are not receiving some incoming long distance calls? You are not alone. It's a nationwide problem that is affecting customers in at least 38 states. The cause of the problem is how long distance calls are routed and it is not an issue Paul Bunyan Communications or other local phone service providers can resolve immediately. Simply put, a call cannot be completed that does not get to the local phone provider's network.
Consumers have reported problems of the calling party hearing ringing while they hear nothing. It has also been reported that a calling party hears ringing but it goes to dead air once the intended receiver answers the phone. Some other reported problems include:
Unusually long call set up times, sometimes as long as 50 seconds
Garbled, one way or otherwise poor quality voice on completed calls
Inability to receive faxes
Missing or altered Caller ID information.
The problems can occur on calls originating from a variety of telephone technologies including land-line, wireless, cable, and Voice over Internet Protocol services (VoIP).
Ultimately, the long distance carrier of the calling customer is responsible for delivering the call to the local phone provider. Until that call is delivered, there is nothing your local phone service provider can do with the call.
Even though Paul Bunyan Communications has no control over calls that are not delivered or delivered incorrectly, we understand the level of frustration that our customers are experiencing over this problem. Our cooperative is working with several telecommunication trade associations to address this issue with the problem companies and the Federal Communications Commission (FCC). We have invested significant time and resources to advocate on behalf of our customers to have those responsible for the problem correct it.
Here is what you can do to help us in these efforts:
Please document each time the problem occurs. The information we need to know includes the following:
The phone number attempting to call you and their long distance provider
If possible, identify whether the call was made on a landline phone, wireless, cable, or from a Voice over Internet Protocol provider (VoIP)
Your phone number
Date/time of call attempt
You can submit this information to us by e-mailing
longdistance@paulbunyan.net
or by
mail
. This information will help our efforts to get the problem resolved over the long term.
Short term, you can file a complaint with the FCC online at
http://esupport.fcc.gov/complaints.htm
under "wired service". Your complaint should specify the issue as Interstate Long Distance Call Routing and include as much detailed documentation as you can provide.
Paul Bunyan Communications is doing everything we can to address the problem, but it is not within our power to solve.