Our office lobbies and Bemidji Drive Thru are closed but will be reopening soon.
Until then, we ask all members and customers to continue to do business with us by phone, e-mail, or online chat.  Many technical problems can be resolved without having to send out a technician and you can pay your bill through several different methods without having to come in person.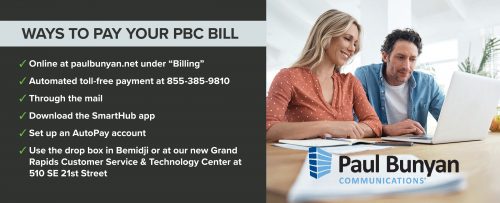 The Apple Service Center in Bemidji is offering curbside drop off/pick up service by appointment only, please call (218) 444-4936.
We continue to offer emergency repair 24/7 which can be reached at (218) 444-1234, (218) 999-1234, or toll-free 1-888-586-3100.
Thank you for your understanding. We are committed to you.