The safety and well-being of our membership, customers, and employees is of utmost importance.
Due to the COVID-19 pandemic, we ask all members and customers to do business with us by phone, e-mail, or online chat.  Many technical problems can be resolved without having to send out a technician and you can pay your bill through several different methods without having to come in person.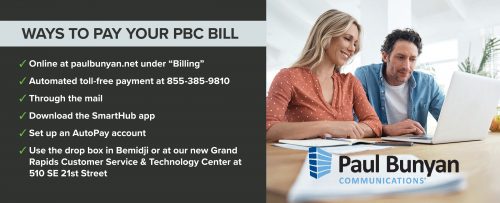 Our office lobbies and Bemidji Drive Thru are closed until further notice.
The Apple Service Center in Bemidji is offering curbside drop off/pick up service by appointment only, please call (218) 444-4936.
We continue to offer emergency repair 24/7 which can be reached at (218) 444-1234, (218) 999-1234, or toll-free 1-888-586-3100.
We continue to monitor the situation and follow recommended practices as outlined by the CDC and the Minnesota Department of Health, adjusting our course as needed based on their recommendations.
As we monitor the situation we also may need to consider limiting technician visits to customer locations based on what is considered "necessity". 
Steps we've taken to protect our employees, members, and customers:
Out of an abundance of caution for the safety and well-being of our members and employees, the cooperative has initiated a pause on all work related travel outside of our service region except in special circumstances.
Employees who travel by mass transit are required to stay out of the office for 14 calendar days upon their return until further notice.
Where feasible, employees whose job does not require customer facing interaction will work from home.
We are committed to working with employees at increased risk for contracting COVID-19 to make reasonable accommodations with regard to work arrangements.
We've developed a contingency plan should an employee contract COVID-19, where we will take all necessary preventative matters to isolate and minimize risk of spread.
We have shared best practices for minimizing risk of infection with employees and directed them to helpful resources.
While we enjoy visiting with you in person, your safety, along with our employees' safety, is our utmost priority.
Thank you for your understanding. We are committed to you.