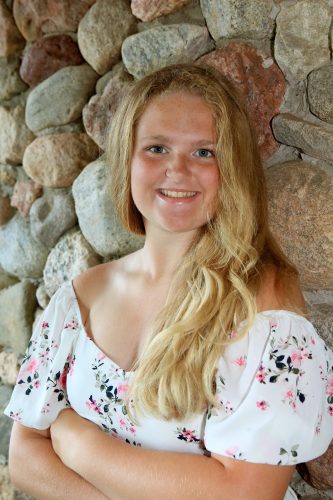 Dylan Haynes of Grand Rapids has been selected to receive the Bud Morrow Scholarship for the 2022-2023 academic year from the Minnesota Telecom Alliance Foundation!
The Bud Morrow Scholarship is one of six $2,000 scholarships being awarded by the MTA Foundation this year. Dylan will be attending the University of Minnesota—Twin Cities to pursue a Bachelor's Degree in Animal Science/Pre-Veterinary Medicine. She is the daughter of Dave and Carol Copp.
"Throughout my education, I have chosen a more rigorous path to prepare myself for post-secondary education.  My primary goal is to become a veterinarian.  I'm elated for the opportunity to work with animals and cannot wait for what is to come" said Dylan in her scholarship application.
In awarding the scholarship to Dylan, Gary said, "We're excited to have this chance to make an investment in Dylan's college education.  Rural communities need educated and talented young people like Dylan to be our leaders of the future.  It makes us all proud at Paul Bunyan Communications when one of the statewide winners is selected from our area.
The Foundation is part of the Minnesota Telecom Alliance, a trade organization based in St. Paul representing over 44 telephone companies and cooperatives in the state.