At their monthly meeting in November, the Paul Bunyan Communications Board of Directors accepted Kathy Peterson's retirement notice and appointed Tracy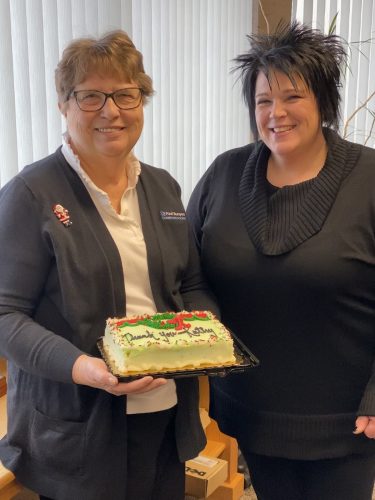 Mistic-Schaar to fill the District 3 seat.
We thank Kathy for her dedication by serving over 25 years on our cooperative's Board of Directors!  Kathy was first elected in 1995 and led our cooperative as Board President for an incredible 20 years from 1998-2018.
So much has been accomplished in the two and a half decades Kathy has been on the Board of Directors it is hard to put into words.  Our cooperative has grown significantly in membership, employees, and the technology and services we offer.  When Kathy first started on the Board, Paul Bunyan Net was just formed to offer dial up Internet service, cellular service was transitioning from bag phones to flip phones, and there was no such thing as Paul Bunyan Television, high speed Internet, or the GigaZone.  It was under Kathy's leadership that Paul Bunyan Communications developed into one of the most progressive communications cooperatives in the United States now providing an industry-leading multiple gigabit Internet service across 6,000 square miles of northcentral Minnesota.
"Kathy is very humble and I know she won't take any personal credit for the many accomplishments and progress our cooperative has experienced over the past 25 years, but her steady leadership has played a pivotal role in all of our growth and subsequent success.  She and fellow board members had the foresight to diversify our service offerings and to boldly authorize the construction of one of the largest rural all-fiber optic networks in the country nearly a decade before most other service providers.  Recognizing the critical role broadband now serves in education, healthcare, work, e-commerce, government, and entertainment, you cannot overstate Kathy's impact on the lives of thousands across our region.  Her sincere dedication to our cooperative and our members has been incredible and we can't thank her enough.  We are going to miss her leadership, support, and positive attitude, but wish her the very best in retirement," said Gary Johnson, Paul Bunyan Communications CEO/General Manager.
As is called for in the Cooperative's bylaws, the Board has appointed District 3 member Tracy Mistic-Schaar as the new District 3 Board Member.  We look forward to working with Tracy and appreciate her willingness to serve on behalf of the members of District 3.  That position is up for election/re-election this year.  Tracy has expressed her intent to seek re-election.