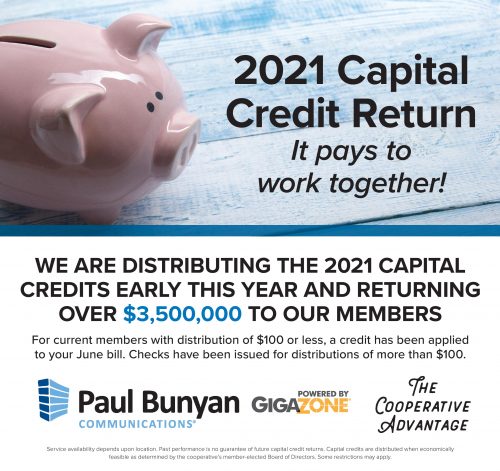 To help its members on the road back from the pandemic, Paul Bunyan Communications has distributed a Capital Credit return early to its membership again this year.  Over $3.5 million has been returned to members of Paul Bunyan Communications, the cooperative announced today.
Paul Bunyan Communications is a not for profit company that strives to provide the highest quality service at the most affordable rates.  As a cooperative, membership in Paul Bunyan Communications includes the opportunity to share in the financial success of the company. When profits are earned they are allocated to the members based on their proportional share of the allocable revenues.  These allocations may then be returned to the individual members through capital credit retirements.
For current members with a distribution amount less than $100, a credit has been applied to your June bill. Checks have been mailed out for distributions of $100 or more.
"It's been a very challenging year for everyone and it has been amazing to see our region come together in the face of all the challenges of the pandemic.  Our cooperative has continued working hard behind the scenes to get those without Internet connected and support our communities.  We wanted to help our membership again this year by returning their share of our success now rather than in the fall as we normally do" said Gary Johnson, Paul Bunyan Communications CEO/General Manager.
"For over 65 years we have been providing the latest in technology at cost.  There is no membership fee to join Paul Bunyan Communications and there are no annual membership dues. All you need to do is subscribe to either one line of local phone or Broadband Internet service and you become a member. You get the latest in technology backed up by our talented team of over 130 local employees that all live and work here" added Dave Schultz, Paul Bunyan Communications Chief Financial Officer.
"In a highly competitive industry with national competitors our cooperative has been successful because we put our region and our members first.  We don't have to worry about customers all over the place like in Sioux Falls, Fargo, Minneapolis, or anywhere else. Our investments go here, back into our network, our services, and our communities." added Brian Bissonette, Paul Bunyan Communications Marketing Supervisor.
If you were a member of the cooperative in 2003 and/or 2020 and accrued more than $10 in total capital credit allocations, but do not receive the credit on your account or a check by June 24, please contact Paul Bunyan Communications at (218) 444-1234 or (218) 999-1234.
Posted: 2 weeks ago.