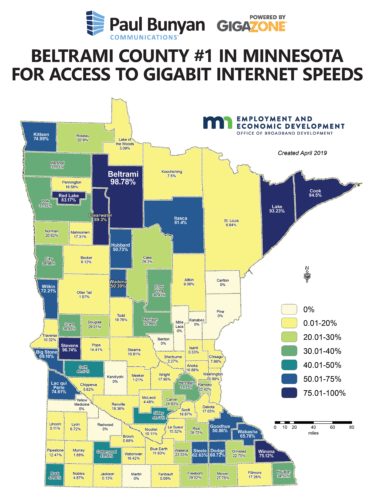 Minnesota's Department of Employment and Economic Development (DEED) Office of Broadband recently released new broadband availability maps. Beltrami County is rated number one in wireline access to Internet speeds of up to a Gigabit per second (Gbps). 98.78% of Beltrami County now has access to those Gigabit speeds.
The map can be found online at https://mn.gov/deed/assets/county-gigabit-map_tcm1045-297681.pdf   It provides the perspective by county of where the most advanced Broadband networks exist providing the percentage of households served by wireline broadband service with at least 1 Gigabit speeds.  In contrast to Beltrami County, currently only 24.58% of the state has access to Gigabit Internet speeds.  There are nine counties where no Gigabit access exists at all.
"From the perspective of county government, we constantly have our eyes on setting ourselves up to be the best community in which to live, raise a family, to recreate, to be educated, and to work.  Every single one of those values is positively impacted by the availability of broadband.   Even better, for those of us that try to figure out how to cover the cost of so many public services, is the fact that county government did not have to make the investment.   Paul Bunyan Communications deserves a wealth of gratitude for their forward thinking investments that put Beltrami County on the map as the #1 county in the entire state when it comes to broadband coverage!  Thank you Paul Bunyan!" said Kay Mack, Beltrami County Administrator.
"The investments Paul Bunyan Communications has made in robust communications capacity are foundational and will serve this region for decades to come. Successful economic development and growth in the areas Paul Bunyan serves won't face the bottleneck of not enough service that so many rural areas face every day. It has been an honor to play a role in helping to reach this fantastic milestone through the Border to Border Broadband Grant Program. Congratulations!" added Danna MacKenzie, Executive Director Office of Broadband, State of Minnesota Department of Employment and Economic Development.
"It's yet another exciting day for our cooperative who has been working so hard for so many years to upgrade and expand what is now one of the largest all-fiber optic rural gigabit networks in the country. The key to it all is our staff and Board of Directors.  We are very passionate about providing world class communication services and proud that Beltrami County is Minnesota's best broadband county!" said Gary Johnson, Paul Bunyan Communications CEO.
According to DEED, the maps use data collected from broadband service providers, reviewed by a third party, and verified if questions are raised. Data is collected annually and the maps and data online are current as of April 2019.
"It's a great feeling to know we are almost finished expanding and upgrading our all-fiber optic network in Beltrami County, but we are not done.  We have upgrades planned over the next two years in the rural Blackduck area.  Our cooperative continues to expand our network to regions that are still lacking broadband access including rural areas of North Central and Northeastern Minnesota," added Steve Howard, Paul Bunyan Communications Information Technology and Development Manager.