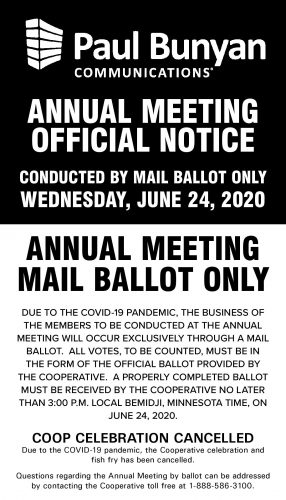 Due to the COVID-19 Pandemic, the business of the members to be conducted at the Annual Meeting will occur exclusively by mail ballot.  All votes, to be counted, must be in the form of the Official Ballot provided by the cooperative.  A properly completed ballot must be received by the cooperative no later than 3 p.m. local Bemidji, Minnesota time on June 24, 2020.
Members are advised that the cooperative will NOT hold a physical meeting.
The notification of Annual Meeting, Ballot, Bylaw Changes being voted upon, Ballot Envelope, and self-addressed stamped Secretary Envelope will be mailed out to all members no later than June 1, 2020.
There is a limit of one Official Ballot per Ballot Envelope and each membership may only return one Official Ballot.
If you have any questions regarding the Annual Meeting exclusively by mail ballot, please contact us by phone, e-mail, or online chat.