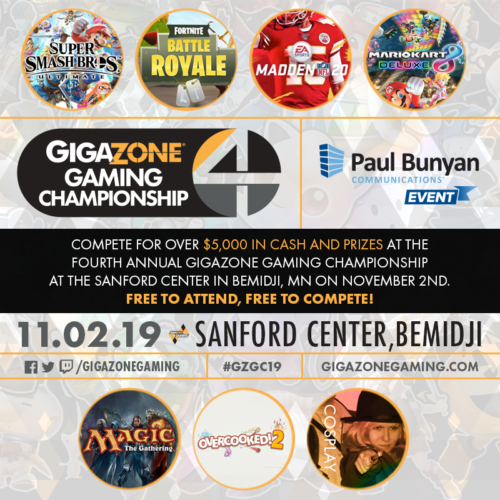 The first and only stadium style eSports event in the region, the GigaZone Gaming Championship, returns to the Sanford Center Ballroom in Bemidji Saturday, November 2.
The main stage game this year will be Super Smash Brothers: Ultimate and northern Minnesota's best players will compete for the top cash prizes.
In addition to the Super Smash Brothers Ultimate Tournament, the public is invited to participate in open console and arcade gaming both days along with tournaments of Fortnite, Madden 20, Mario Kart 8, Magic the Gathering, and more.  Admission is free for tournaments and the event plus there will be a chance at great door prizes throughout.  There is also a Cosplay Contest for those who dress up and embrace their inner fantasy character with prizes of up to $200 for the top costume of the weekend.
"We're excited to bring back GigaZone Gaming Championship to the region!  It gets bigger and better every year.  There is a large gaming community in our area and this event is a way that we can give all gamers, whether competitive or just in it for fun, to come out and enjoy a one of a kind gaming event" said Gary Johnson, Paul Bunyan Communications CEO/General Manager.
"With the GigaZone providing Internet speeds up to a Gigabit per second it is the ultimate connection for the online gaming experience. Our cooperative has one of the largest rural fiber gigabit networks in the country and this event showcases the GigaZone Internet speeds and the impact it has on the overall gaming experience." added Leo Anderson, Paul Bunyan Communications Digital Services Supervisor.
For more information on the GigaZone Gaming Championship visit www.gigazonegaming.com
"We had a record turnout last year and we hope even more will come to check it out this year. Concessions and GigaZone Gaming Championship merchandise which will be available for purchase too.  Whether you are a competitive gamer or like me, just a casual player, the GigaZone Gaming Championship has something for everyone," added Brian Bissonette, Paul Bunyan Communications Marketing Supervisor.