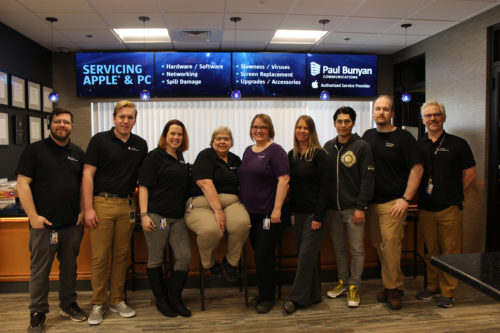 For the second consecutive year, Paul Bunyan Communications has earned Apple Premium Service Provider status.  Apple's Premium Service Provider Program recognizes service locations that deliver exceptional service based upon customer satisfaction for repair quality, repair time and professionalism.
This accolade is given to an elite tier of Apple Authorized Service Providers in recognition of their unparalleled commitment to technical excellence and customer service. According to Apple, "Premium Service Providers consistently deliver exceptional repair support and customer experience that meet Apple's exacting standard for high-quality repair and prompt service."
Paul Bunyan Communications Certified Apple Service Center is located at the cooperative's Bemidji headquarters at 1831 Anne Street.  The Apple Service Center is open Monday-Friday from 8:30-5:30 p.m. and services Mac and PC computers along with Apple iPad, iPhone, iPod, Apple Watch, Beats and Apple TV warranty and non-warranty service along with same day screen replacement on iPhone 6s or newer devices.
"This is a testament to our outstanding staff and the superior level of customer service they provide our customers. The expertise and care they provide in working with each customer is what makes our Apple Service Center so successful." said Leo Anderson, Paul Bunyan Communications Technology Experience Manager.
Great job Adam, Jarek, Aurora, Barb, April, Stacy, Wakinyan, Jesse, Leo and all of our staff!