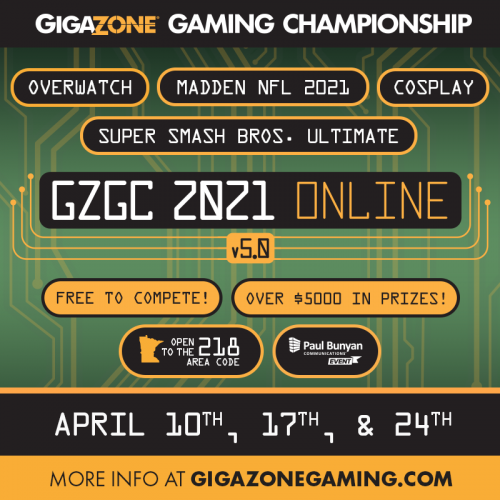 GigaZone Gaming Championship 5 was held virtually over 3 consecutive Saturdays with a different tournament each day, door prizes, and a CosPlay contest.  Here are the official results:
Saturday, April 10- Overwatch 6v6 Community Tournament
1st Team YES                                                                $1,800 ($300 per player)
Kelly Whipple, Kylie Elliott, Tien Nguyen, Connor Broderick, and Coby LaCroix from Bemidji and Isaak R Smith from Deer River.
2nd  The Clean Up Crew                                            $1,200 ($200 per player)
Thomas Berge of Bemidji, Ethan Hunt and Ewan Newbold of Pine River, Tristan Jourdain from Red Lake, Jacob Peterson from Red Lake Falls, and Kohl Belgrade-Gotchie from Akeley.
3rd  ISSA Team                                                              $600 ($100 per player)
All from Bemidji including Tristan Lawrence, Naziah Matt, Devon Rainey, James Jones, Matoskah Veaux, and Dakota Veaux
Saturday, April 17 – Madden 21 Tournament
1st  Dain Walters, Grand Rapids                               $500
2nd Adam Scott, Brainerd                                          $400
3rd  Nick Miller, Brainerd                                          $300
4th  Drew Holden, Bemidji                                         $200
Saturday, April 24- Super Smash Bros. Ultimate
1st Hunter Branson-2019 Defending Champ         $500
2nd Ronnie Nguyen- Bemidji                                    $400
3rd  Kenneth Crocker- Grand Rapids                        $300
4th  Noland Anderson- Bemidji                                $200
CosPlay Contest-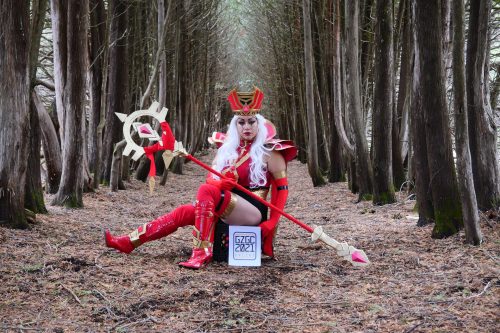 1st Roselynn Jones, Cass Lake                                   $300
2nd David Harper, Ponsford                                       $200
3rd  Khoriana Vaerconum, Hibbing                          $100
CosPlay Popular Vote Winners-                               $200 each
Hannah Elizabeth Cheney – Cook
Roselynn Jones, inquisitor – Cass Lake
Grand Prize Drawing Winners- Will be Updated Once Confirmed with Winners

Playstation 5          Mary Sullivan, Bemidji
Xbox Series X        Michael Strauch, Bemidji
Occulus Qwest 2   Ningozis White, Bemidji
"What an incredible job our team did in pivoting to a virtual event his year!  I'm very proud of all the hard work and dedication put in to provide these three weekends of online gaming fun for the region," said Gary Johnson, Paul Bunyan Communications CEO/General Manager
This one-of-a-kind regional gaming event is free to play or watch and is being held virtually due to the pandemic.  It showcases Paul Bunyan Communications' IT and web development team which custom built and integrated much of the online technology to make the virtual event possible.  The event leverages the speed of the GigaZone one of the largest rural all-fiber optic Gigabit networks in the country and the entire event is run off a single residential GigaZone Internet connection.
"The GigaZone provides extreme speed and low latency which are critical for the best online gaming experience and the GigaZone Gaming Championship showcases just that," added Leo Anderson, Paul Bunyan Communications Technology Experience Manager.
This Paul Bunyan Communications event includes the talents of many local partners including NLFX, Accidently Cool Games, Northern Amusement, as well support from several regional and national partners.
For more information on the GigaZone Gaming Championship visit www.gigazonegaming.com