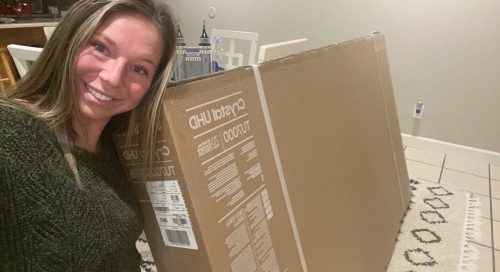 For the second time in as many games, there was a winner of the Paul Bunyan Communications Hockey Hot Shots Promotion during a Bemidji State University men's home hockey game!
Brittany Perry of Columbia, MO made her shot at center ice during a period intermission at the Beavers game Friday, December 31 against St. Cloud to win a 70" Smart HDTV.  Brittany was in town for the holiday with her boyfriend Sam Rydeen who graduated from BSU in 2018.  It was the first time she's attended a college hockey game and the first time she held a hockey stick.
"We thought it would be a good idea to leave 61 degree weather to come to the coldest weather we had ever been a part of, -15 with a "feels like" -30. The BSU game was the first college hockey game I had ever been to and I'm not sure another could ever top it after this!" said Peterson.
"We've sponsored the contest for a long time but have never seen a win like Brittany's.  She had never held a hockey stick before and you could tell.  She missed the puck on her first four tries and it seemed was about to give up but wouldn't you know it, the fifth time she connected and it went straight down and in!" said Brian Bissonette, Paul Bunyan Communications Marketing Supervisor.
You can see video of Brittany making the shot on the Paul Bunyan Communications YouTube page at https://www.youtube.com/watch?v=bKUI-3TAISg
The Paul Bunyan Communications Hockey Hot Shots contest is held during an intermission at select Bemidji State University Men's Hockey home games. Three contestants are selected at random to participate each night. All contestants receive a coupon for a free PBTV On Demand movie rental, any contestant hitting the board receives a Paul Bunyan Communications Bluetooth speaker, and a contestant who puts the puck in the net through the middle of the Hockey Hot Shots board wins up to a 70" Smart HDTV.